I always write about safety and security. Being anonymous on the internet is also a part of staying safe and secure online. No one can able to identify you or track you on the internet. With anonymity, you can only do the basic internet things, no deep task can be possible with the steps I am going to explain below.
Use protonmail for email services
When you start exploring the Internet you may need an email account to register for the different services. Internet mail providers may read your emails to collect data from you.
So, what Protonmail does? It uses end to end encryption, which means your mails can not be decrypted by the Protonmail itself. Only you and the sender/receiver can read the emails. It uses Swiss Privacy, which is very secure (even secure from the government).
The mail accounts on Protonmail are completely disposable. When you do not need the account, you can delete the account with all the data.
It does not collect the IP of the device from which you are logged in.
When you will sign up for a Protonmail account it will not ask any additional data from you, no phone number, no name, age, etc.(optionally you can provide a recovery email address).
Use Bitcoin for online transactions
When you need to transact online for any service you should use Bitcoin. You must know about Bitcoin. It is an encrypted digital currency (cryptocurrency), like online wallets. It does not collect users' data (you must read its privacy policy before using). You need to use some additional tools to be more secure while transacting Bitcoins.

Most of the online services are accepting payments on Bitcoins. So, you might not face any difficulty if you are using Bitcoin to be anonymous on the Internet.

You will need to find a Bitcoin wallet to start your bitcoin transactions. Register on any of the wallets and put some money on the wallet and transact using the Bitcoin. You may need to provide your personal details to the wallet registrar while registering, but it will be secret between you and the wallet provider(You shall read the privacy policy while you registering).
Use Second Phone Number app
You may need to verify your phone number for some website to use its services and to be more secure like two-step verification. Try not to use your actual phone number for online services. It may reveal your identity and harm you in various ways. You may be the victim of sim swapping, which clones your phone number and perform illegal jobs with that.

On your phone use the second phone application and put that number on the website where it requires. Some of the second phone number applications are also free to call the USA and Canada.
Use a VPN (Virtual Private Network)
I have written an article on VPN, how it protects your privacy and keeps you and your data safe and anonymous on the Internet.

Basically, VPN encrypts your data between you and the host. It is good to use it for being anonymous on the Internet.
But, not all the VPN service providers keep you anonymous, you must read their offerings while choosing one.
Use Tor browser
Tor can help you to hide your identity from the Internet. It uses the Onion Router, which puts virtual layers between you and the host. It prevents your IP to be shared with the hosts. But you need to use a VPN to be more secure on Tor.
Tip – "Do not use the tor browser on fullscreen mode."
Use Brave browser
You can use Brave as your primary browser. It has almost all the features you get on the Chrome browser. Plus it has some additional features like ad-blocking, inbuilt tor browser. It also blocks all the trackers for all the websites you browse.
Read this article to get to know everything about the Brave browser.
DO NOT share your photos on social media
Never upload any of your photos on social media, it is a very basic precaution to being anonymous. Being away from social media is a tough job. I mean you can use social media in a very productive way. Social media helps us a lot in gathering knowledge and information. You can join on the different groups and there you can get help and knowledge of your job.

Follow this blog to know 'How to use social media in a productive way?'
Also, read '8 rules to be safe on the Internet'.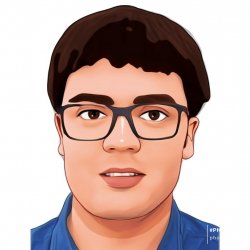 Latest posts by Nur Islam
(see all)