According to research, social video generates 1200% more shares than text and images content combined. And 64% of consumers purchase after watching branded social videos, 68% of consumers prefer watching videos to learn about new products or services compared to articles, infographics, ebooks, and presentations. Videos have become the latest trend for social media marketing.
I used to think that creating a video must be a tough job. I started surfing the internet for the best software to create videos, and guess what? I found FlexClip and my job became more effortless than I had expected.
Flexclip is a browser-based video-making software, or you can call it Online Video Maker, which helps businesses (small businesses to sizeable large-scale enterprises) to create professional videos. It also helps individuals for creating personal videos. The best part is that you don't need to hire a professional video editor. With FlexClip, anyone can create a stunning video according to their needs.
To reduce the effort, FlexClip provides hundreds of templates for different categories. Some of the categories are Business Intro and Outro, Promo and Sales, Slideshows, Real Estate, Corporate, Birth Day, Education, Training, Technology, Sports and Fitness, Fashion and Beauty Art and Culture, and many more.
Flexclip provides an extensive Stock Library of videos, photos, and audio absolutely free. It gives the freedom to import media from your device. One can also use the post-production elements like text, shapes, transitions, and other special effects with simple drag and drop techniques integrated with the website.
So it can be said that FlexClip provides everything you need to satisfy your creativity, no need to go anywhere for anything to create your video content.
How to create a video with Flexclip
Here is how you can create a video most easily. Users can create a video in two different ways. The first one is Create by Templates, and the second one is Start from Scratch.
Create by Templates
Here users need to select the template according to their requirements. It could be a promotional video for a YouTube intro or a birthday wish. After choosing the template, you just need to edit the template's elements as per your need, and your video is ready to publish.
Start from Scratch
If you select Start from Scratch to create your video, you will find Storyboard Mode and Timeline Mode options.
Storyboard Mode
Here you can create your project as a storyline. Similar to slideshows, users can add Text, Transition effects, and other elements.
Timeline Mode
In my opinion, Timeline Mode gives more freedom to the user to edit in more detail with its multiple track options.
Tools Available on the Interface
After selecting the mode as per your preferences, you will find the following buttons on the left-hand side:
Click this button to get the options to add files from the stock library integrated here or from the device you are working on. Users can add multiple files at a time. After adding your files to the media, you can use Trim, Adjust, Crop, Filter options from the top of your work area. You can also adjust the speed of your video.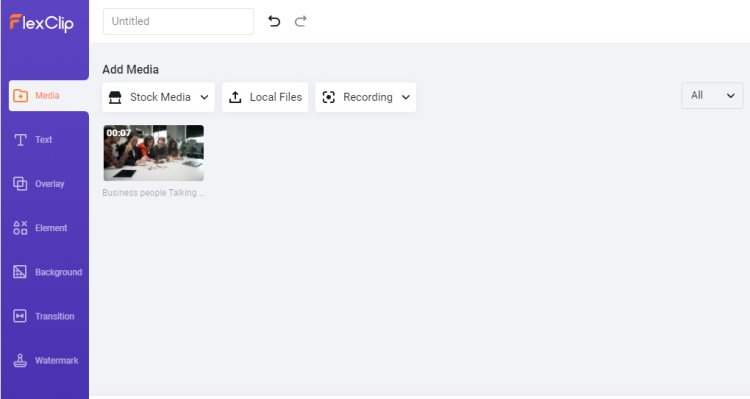 Click this button to add text to your project. There are lots of preloaded Text Styles with Animations to reduce your effort. Besides, you can create your own style by using the editing panel, including Font, Colour, Format, Size, Background style, Motion, Position, Duration, etc. you can add motion to the text.
To increase the quality of your creativity, you can use overlay (overlay for text and overlay for decoration) to your project.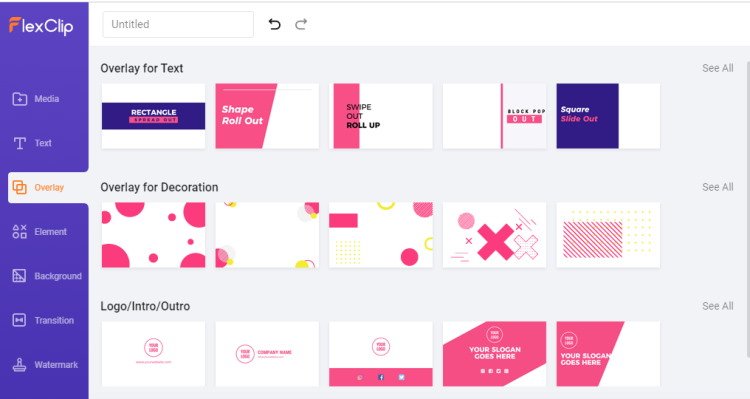 You can make animated Logos, Intro, and Outro. Millions of elements are there, including shapes, arrows, social bubbles, artwork, animations, and many more. The elements can be rotated or flipped. The opacity of the elements can be changed and may be placed to the exact position by using layers.
To add stunning videos and images as background to your project as per your choice.
A transition may be added between two segments. Various transition options are Wipe, Fade, Zoom, Blur, etc.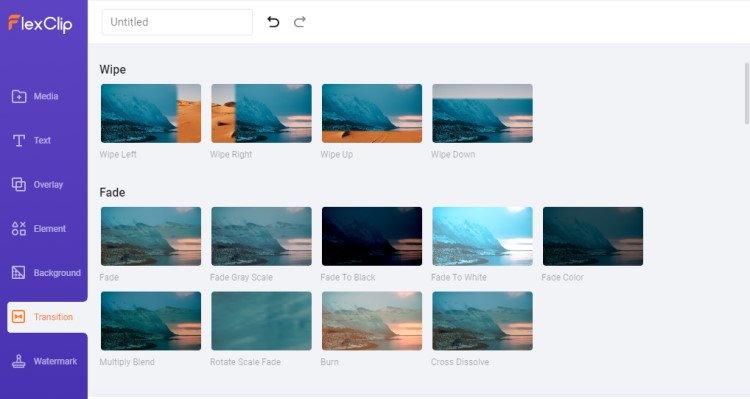 You can use images or text as a watermark for your project to show your brand identity.
Video Export Option
After completing your video, you can export your video as per your required Video Quality (480p, 720p, and 1080p).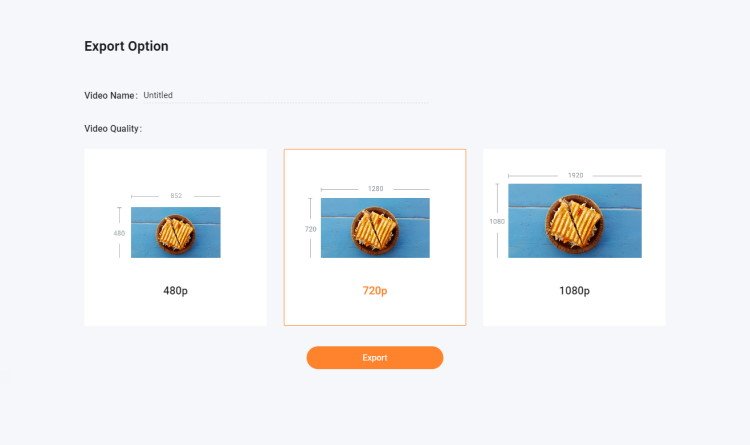 What other things can you do with FlexClip
Using the options mentioned earlier, anyone can make a stunning video and amaze their audience.
On their website, FlexClip provides a step-by-step well explained tutorials for beginners.
Flexclip offers some other tools which make it a champion in this field:
Slideshow Maker
Meme Generator
GIF Maker
Screen Recorder
Trim Video
Merge Video
Compress Video
Convert Video
Add Music to Video
Add Text to Video
Add Watermark to Video
Add Transitions to Video
Screen and Voice Recorder
As I have been using FlexClip for my projects, I found it worthy of recommending to people who need it. Now let discuss why I recommend this website:
Royalty-Free Stock Library: There is no need to search for other ways to get Videos, images, or Music for your project. FlexClip provides thousands of videos, photos, and music which you can use for your project absolutely free.
Accessible to Use: FlexClip is so easy to use that anyone can make stunning videos by simply drag and drop only.
Ease of Access: As it is cloud-based software, you can use it from anywhere in the world.
No need for high-performing hardware setup: As we all know, Video Editing requires high-performing hardware support. But to edit in FlexClip, all you need is just a PC with Internet Connectivity.
Time-Saving: Users can create videos in minutes for its user-friendly interface, simple techniques, and availability of lots of templates.
Reasonable Price Plan: FlexClip offers FREE, and PREMIUM (Basic, Plus, and Business) plans monthly and annually. These premium plans are budget-friendly and worth every penny.
Rich in Editing Features: It provides almost all the features you need to complete your project.
HD Video Support: FlexClip supports the HD video export option.
User Friendly: It provides a simple and easy interface. Everything that you need to create your project is integrated in the software, and the work process is easy to understand.
Great Template Collection: To reduce the effort on designing, FlexClip provides you the freedom to choose from its pre-made templates, including videos and photos, text compositions, transitions, effects, and more.
FlexClip Pricing
I was amazed that it costs less than a cup of coffee per month. I have various tools for various tasks but trust me, and It is the cheapest subscription anyone can afford.
It is available for free for SD 480p downloads, 1 stock video per project, and a maximum of 12 projects. The Basic plan costs $ 9.99 per month (or $ 5.99 per month when billed annually) for 720p HD downloads, 1 archive video per project, and unlimited saved projects.
The Plus plan costs $ 19.99 per month (or $ 9.99 per month when billed annually) for Full HD 1080p downloads, 5 stock videos per project, and unlimited saved projects. The Business plan costs $ 29.99 per month (or $ 19.99 per month when billed annually) for Full HD 1080p downloads, unlimited videos per project, and unlimited saved projects.
My opinion
While comparing it to Canva, Canva is good for graphic design and poster creation, but there is no alternative when it comes to animation. It offers many premade video templates for various needs. For example, it provides impressive templates to make a Youtube intro, a corporate video, and even an infographic video. It is competitive in the online video editing industry. In fact, FlexClip competes with other top video editing tools like Animoto, Vimeo, and video. FlexClip is new but is getting popular.
In a word, FlexClip Video Editor is the fastest growing and trending platform for video creation. With an easy-to-use and user-friendly interface, you can turn your idea into reality with just a few clicks. Now give it a try!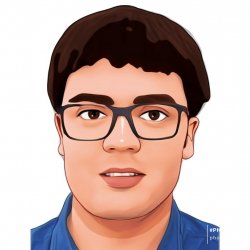 Latest posts by Nur Islam
(see all)