Get unlimited FREE YouTube views with this Growviews. This website provides options to exchange YouTube views and buying views.
You do not need to spend a penny to get YouTube views as long as you are ready to exchange views.
How does this work? Well, you will get credit by watching other creators' videos and in exchange for that, your videos will be viewed by others. And the best part is that is it is fully automated. You do not need to click videos one after another to earn credit.
There are lots of websites available with the same service. But I found this is one more accurate according to my needs. Some features of Growviews are…
You can get video views as many as you want, depending upon the credit you have.
You can earn credit as many as you want.
Credit earning is fully automatic, you just have to start once.
You can transfer credit to another Growviews account.
You can get views for videos from any channel.
Let's discuss how to sign up and get FREE YouTube views from Growviews.
How to Sign up on Growviews?
Go to https://app.growviews.com/#/login and create a new account by filling the required details.
You will get a verification mail on your email. Click on the verification link to verify the email address. It will redirect you to the login page.
Login to the account to get started with Growviews.
ALSO READ: Watch age–restricted YouTube videos without signing in.
How To Get FREE YouTube views on Growviews?
Initially, you will get 50 FREE credit to get views for your videos. You can use these credits for your videos. For that, you need to add your videos.
How to add videos?
On the Growviews dashboard page, you will find a link to add a new video under My Videos. Click on the link.

It will open a new pop up window, where you have to paste the URL of the video and click on the Add Video button.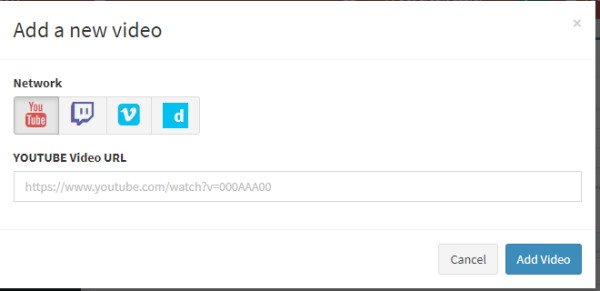 After adding a video, you need to adjust the view timing and view count. For the FREE Growviews account, you can add up to 90 seconds of views to your videos. And the number of views depends upon how many credits you have.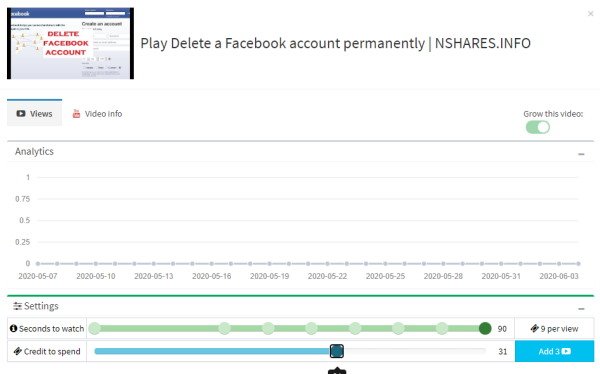 After adjusting the view time and view count, add the video. It will start adding views to the video after a certain period of time.
You can add more views to the videos as long as you have credit on your Growviews account.
You can add more videos depending upon the credit. Read below to know How to earn FREE credit on Growviews.
How to earn FREE credits on Growviews?
Growviews offers to earn FREE credits. You can earn credits by watching videos and it is an automatic process, this means you have start a the process once and it will earn credit automatically for you.
On the dashboard you will find an option 'Run the Player'.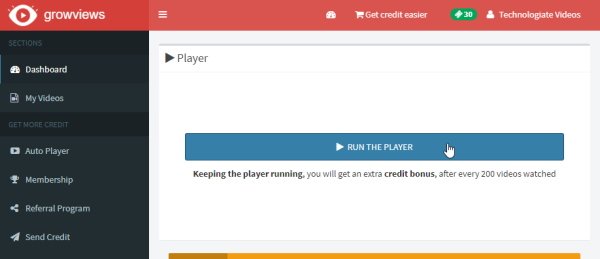 Click on that it will open a new window with random videos added by other users like you.
The video will refresh automatically after the time set by the user and will start playing a new video.
You can see the time when the video will refresh with a new video and how much credit you will earn from that video.
See the below graphic of Growviews in action to earn FREE credit.
This will be running automatically until you stop it manually. You can stop it anytime you want.
You can mute the YouTube video sound to avoid hearing sounds from the random videos.
TIP: Decrease the the video quality to save your Internet data.
ALSO READ : YouTube Channel creation process with video uploading guide.
Frequently asked questions
Are the views from Growviews fake?

Definitely not. All the views are from the real users like you.

Is GrowViews safe?

Views from Growviews are not illegal. It is advisable to keep on eye on YouTube policies as their new policies may be violated by Growviews.

Can I add more than 90 seconds of watch time?

You can only get 90 seconds of watch time with a FREE Growviews account. For more watch time you have to subscribe to the premium plans.

Can I add views from any channel?

Yes, you can add any videos, as long as you have credits, no matter the videos is from which channel.

Can I transfer Growviews credits?

Yes, you can transfer the credits to another Growviews account by the email ID only.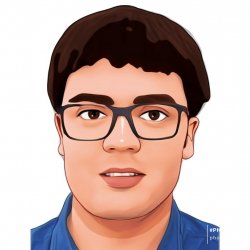 Latest posts by Nur Islam
(see all)